Singapore-based photographer Mezame Shashin-ka is a big fan of incorporating science fiction themes into his photography. Recently an engaged couple approached him with a special request: they wanted a Star Wars-themed pre-wedding photo shoot that would be "out of this world." Shashin-ka delivered.

"Being Star Wars fans, they decided to portray themselves as Jedi Knights who have fallen in love with one another," Shashin-ka writes. "Together, they are ready to battle the evil Galactic Empire together."
In an interview with DIYPhotography, Shashin-ka says that the shoot took weeks to plan before it was finally done with handcrafted lightsabers, and model spaceships for the backgrounds. Gear-wise, Shashin-ka used a Canon 5D Mark III, two Bowens GM500 strobes, two Canon 580EX II flashes, and a smoke machine.
The finished set of photographs tells a story, Shashin-ka tells PetaPixel. "It sees the groom-to-be Jedi turn from the Light Side of the Force to the Dark Side and eventually go through some sort of redemption mid-battle with his wife-to-be to return to the Light Side again (hence, why he took out the Sith groomsmen)."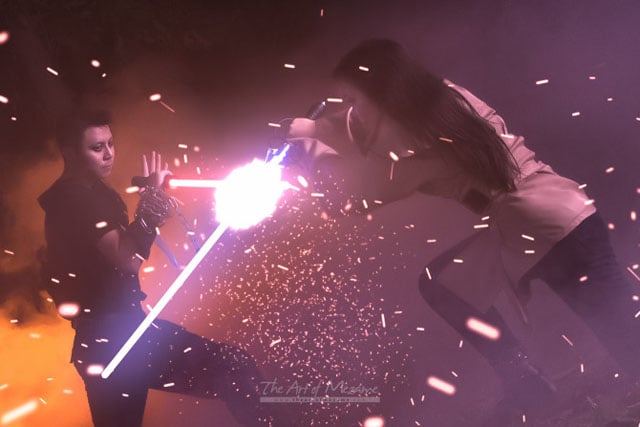 Shashin-ka presented the final set of photographs to the couple as a special photo book of their adventure:
You can find more of Shashin-ka's work on his website and Facebook page.
---
Image credits: Photographs by Mezame Shashin-ka and used with permission