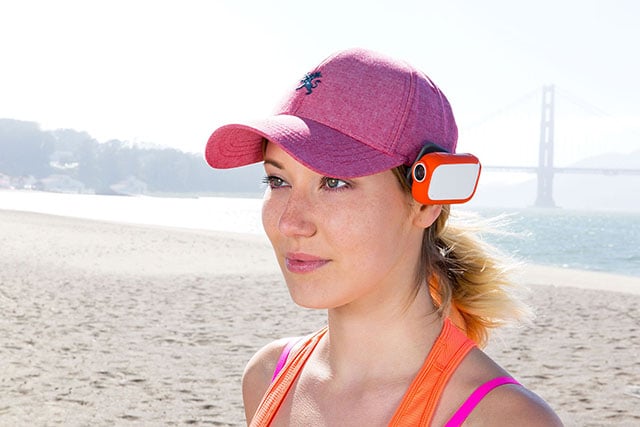 Have you ever wished for a video camera that could somehow sift through all your footage and tease out only the most memorable portions? If so, then the new Graava camera is designed just for you. Using a variety of sensors, Graava is automatically able to detect what it believes are "the best or most exciting moments." The result: three hours of boring video quickly becomes five minutes of (possibly) fascinating content.


The team behind Graava wants you to stop wasting footage simply because you don't have the time or the tools to edit it. The device begins by capturing high-resolution stabilized video at either 1080p/30fps or 720p/60fps. Graava can also capture still images and hyperlapses at an 8 MP resolution. It comes with a wide 130-degree angle-of-view lens ready for you to start capturing memories.
But how can the Graava identify an important moment? Well, the device uses its internal image sensor, along with a microphone, accelerometer, and GPS to detect when things get interesting. To make the Graava more personal, you can pair the unit with a 3rd party heart rate monitor so the device knows when you get particularly excited about something.
"Millions of videos are shot every day, but very few people actually have the time, experience, or software necessary to edit the hours of footage they have after a long day skiing or zip lining," says CEO and Co-founder Bruno Gregory. His goal for the Graava is to change the way people share experiences.
Graava can be utilized in a variety of scenarios, including the filming of action sports, day to day events, home monitoring, and more. The device records up to three hours of video footage on a single charge. When it's time to recharge, just place the unit onto its included wireless charging mat. The footage you capture is also automatically uploaded to the cloud for safe storage.
The camera makes it incredibly easy to share videos with friends. Using the Graava app, you can quickly select where you want to publish your video and the software will trim the footage for the specific service; e.g. a 15-second clip for Instagram. You can also drop in your favorite music track or combine footage from another Graava camera.
Here's a short promo video for the Graava:
We aren't sure if we are completely sold on the idea of a computer deciding what moments are important in our lives, but we are certainly eager to give it a try! Graava cameras can be preordered now for $249 with an estimated shipping date in early 2016. The camera will retail for $399 when it is fully available to the public.