In February 2013, Hindus from around the world made a pilgrimage of faith to bathe in the Ganges and Yamuna rivers in India. The event was called Maha Kumbh Mela, a particular festival held once every 144 years, and an estimated 100 million people visited the site over a period of days. It was likely the single largest peaceful gathering of people in the history of the world.

Photographer Rufus Blackwell was on hand to shoot photographs and a time-lapse video of the festival. Here's his award-winning video he created:
Blackwell says that his goal was to create "an animated painting of the immense kaleidoscopic teeming movements of the crowds and the patterns they make as they move." He was particularly drawn to all the colors found on the clothing, accessories, and possessions of the pilgrims.
Over the course of two weeks, the photographer walked for many hours and shot 80,000 photographs to capture the festival from all different locations and angles. After all, capturing the "greatest gathering on Earth," is no easy task.
Here are some of the photos he captured with his Canon 5D Mark III, 16-35mm f/2.8L, and 70-200 f/4L.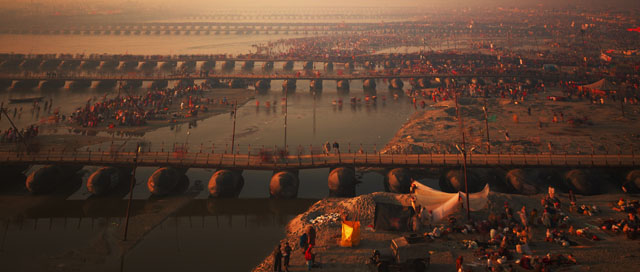 ---
Image credit: Photographs by Rufus Blackwell and used with permission