A police officer in Albury, Australia, did some online photo sharing that drew quite a few chuckles last week. After someone turned in a lost iPhone at his police station, the officer found that the phone didn't have any type of passcode protection. So, to get in touch with the woman who lost it, he started posting humorous photos to her Facebook account.

The first was the selfie above, posted to Bella Crooke's Facebook account with the caption: "You should probably put a password on your phone. When you are ready to pick it up it will be at Albury police station. :)"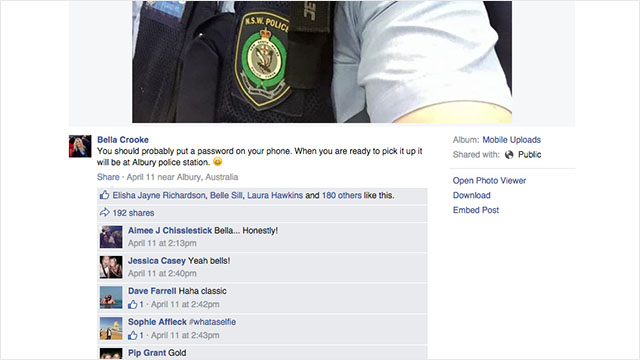 After Crooke's friends began to respond to the photo, the officer decided to get more creative, sharing a photo of the phone in a cell:
The caption read: "If your worried about the battery going flat, don't. By the time you pick it up it will be fully 'charged'. It is a great 'cell' phone."
A few hours (and many likes and comments) later, the officer followed up with: "The phone is still here. Ready to be released early for good behaviour. Just waiting on Bella to post bail."
Crooke walked in an hour later and was reunited with her phone. These photos are now being shared widely across the Web.