Sony has announced two new Android smartphones: the Xperia C5 and Xperia M5. Both devices come equipped with large Full HD displays and fast Octa-core processors, but most interesting (to us at least) are the integrated cameras powered by Sony Exmor RS sensors. Both cameras feature a 13MP front facing camera for selfies, and the M5 boasts a hefty 21.5MP rear camera.

Xperia C5 Ultra
The Xperia C5 Ultra is being marketed as a "PROselfie smartphone" and allows shooters to use either the front facing or back facing 22mm wide-angle camera without worrying about poor quality images.
Both phones include HDR capabilities for both photo and video, along with an automatic scene recognition mode to get "the perfect results every time."
The C5 Ultra is also equipped with a "soft" front facing flash to ensure your selfies aren't left in the dark. Sony notes that the flash is "unlike the rest" and can adjust itself to the ideal settings so that your images won't be washed out.
Other specifications for the Xperia C5 Ultra include a large 6" Full HD IPS display powered by Sony's Mobile BRAVIA Engine 2, a 1.7 GHz Octa-core processor, 2 GB of RAM, 4G/LTE network support, ClearAudio+ technologies, and a "two-day" battery.
Xperia M5
The Xperia M5 is simply marketed as "camera brilliance" and has its 21.5 MP rear-facing camera to thank for that title. It also features a waterproof and dustproof design and 4K video recording.
Sony has integrated a 0.25-second hybrid autofocus system into the unit to help you not miss that quick once-in-a-lifetime shot. And when you are ready to flip the phone around and take a selfie, you get the same 13 MP camera as seen in the Xperia C5 Ultra.
Other features and specifications for the Xperia M5 include a large 5" Full HD display powered by Sony's Mobile BRAVIA Engine 2, 5x "Clear Image Zoom", a 2.0 GHz Octa-core processor, 3 GB of RAM, 4G/LTE network support, and a two-day battery.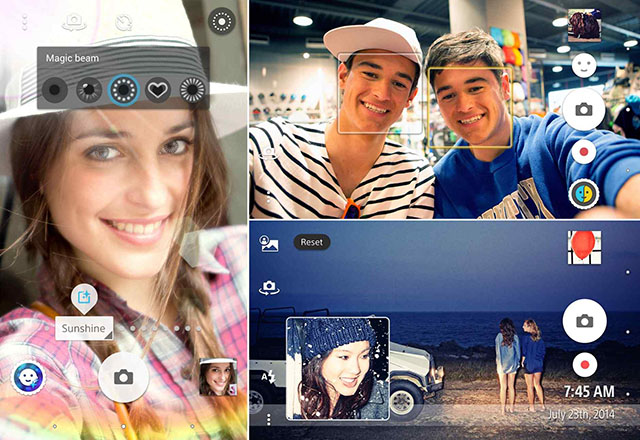 Sony also has announced a few camera applications for both devices allowing for creative effects, 120 fps video capture, and elevated selfies.
There is currently no word on pricing, but the devices should be made available later this month in select countries.