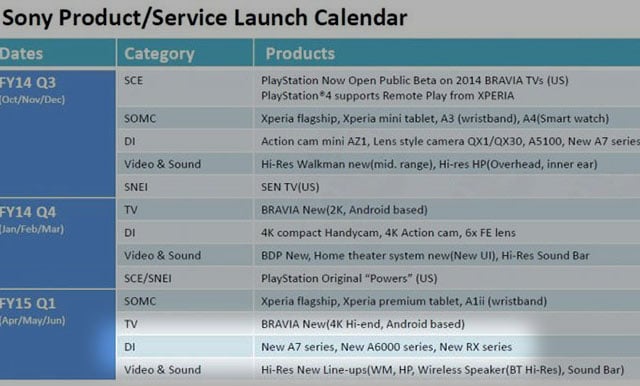 WikiLeaks has just published a massive collection of emails and documents that were leaked through the 2014 Sony hack. Among the documents was a product and service launch calendar that mentions new cameras Sony is (or was) planning to launch in the first part of this year.
If the calendar is still accurate, then Sony will soon be announcing new cameras in the A7r, A6000, and RX lines.

sonyalpharumors first published the leaked document, and writes that the new RX camera — which may have a Four Thirds sensor — will be revealed on April 23rd, while the A7r and A6000 successors should be announced in early to mid May.
Things aren't looking too hot for Sony A-mount users — there's no mention anywhere of Sony announcing new cameras or lenses for that mount. A commenter on sonyalpharumors also claims to have discovered a document among the leaked files that mentions the death of the A-mount:
"Sony will scale back production and discontinue their A-mount full-frame and entry level candidates," the screenshot reads. "The increasing sales of high-end consumer cameras, the 'Alpha' line-up, has proven to Sony that the E-mount (and FE segment) of Alpha is worth further investment."
We have not yet been able to verify the authenticity of this second document — it could be a hoax, but the lack of A-mount news certainly doesn't bode well for photographers invested in the mount.