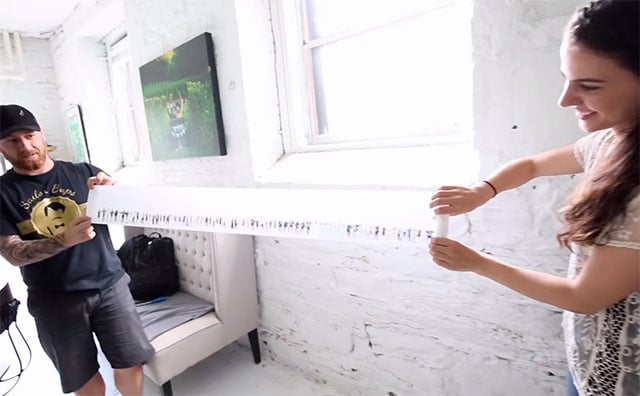 Photographer Liam Hennessey runs a wedding photography studio in downtown Halifax, Nova Scotia, Canada. Recently he was hired to shoot a wedding at a hotel that was extremely close to his studio. Wanting to do something unique for the couple, an ambitious idea popped into Hennessey's head: "Why don't we have every guest come to our studio and get their photo taken?" he thought.
So they did.

Inspired by the dance scene in Taylor Swift's music video for the song "Shake It Off," Hennessey invited all 111 people at the wedding to his tiny studio for individual portraits.
Everyone was "dancing for the camera, drinking our beer, and having a great time," Hennessey tells PetaPixel.
Once he had the giant collection of studio portraits, Hennessey then turned the photos into a very special keepsake for the bride and groom: a 6-foot-long print of everyone who was there to celebrate that day. It's an ultra-wide panoramic image that "that breaks the Internet" because of its width.
Here's a closer look at the beginning, middle, and end portions of the image (the wedding party is found at the center of the print):
Finally, here are a couple of videos that show the final product:
You can find more of Hennessey's work on his Applehead Studio website.
---
Image credits: Photographs and videos by Liam Hennessey/Applehead Studio and used with permission