It's not every day that a renowned photographer decides to sell original film slides or negatives on eBay, but that's exactly what Scott Aichner is currently doing. He's selling beautiful surfing prints that come with the frame of film the image was captured on years ago.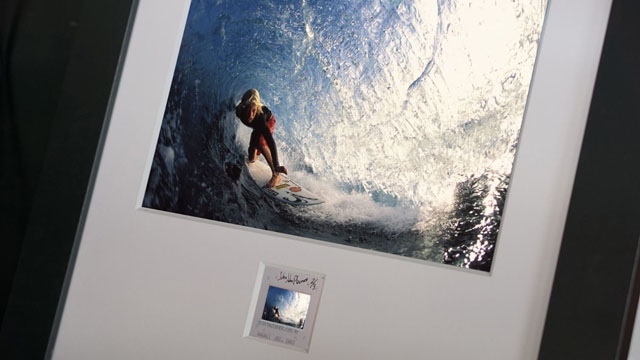 Scott Aichner was a senior photographer at Surfer Magazine for 10 years, and he traveled around the world to some of the most legendary beaches to photograph top athletes in the sport. His photos have appeared on over 80 magazine covers worldwide, and he has won two "Photo of the Year" awards from Surfer Magazine.
Oh, and Aichner also invented the 270 camera, which uses 2 fish-eyed cameras in water-housing to shoot photos that cover 270 degrees.
About 5 years ago, Aichner left the world of surf photography as the print magazine industry began contracting. Now, he's trying to get back into the game, but instead of shooting stills, Aichner wants to shoot ultra-high-res slow-motion with a RED camera and underwater housing.
Those cameras cost tens of thousands of dollars, so now Aichner is selling the originals to 30 of his most prized photographs in order to fund this career shift. Auctioning original film frames is like "selling a little bit of your soul," Aichner tells Beach Grit. "Yeah, it stings."
The photographer's account on eBay currently has a number of different listings for these prints and original slides. Starting price is $1,400 for main images. The print is a 8×12-inch print on a 16×16-inch matt, the original slide is mounted below, and the frame is backlit with an LED light box.
If you're interested in purchasing any of these one-of-a-kind photos for yourself, head on over to eBay to see the listings for yourself.
---
A big thanks to surf photographer Jack English for sending in this story.